Hagerstown Town & Country Almanack
T
he Hagerstown Town and Country Almanack was established in 1797, making it the second oldest almanac in the United States. It began in a modest print shop on South Potomac Street in Hagerstown, Maryland and was the creation of colonial printer John Gruber and his partner and son-in-law Daniel May. Gruber is considered by many to be one of Hagerstown's "favorite sons" right along with Jonathan Hager, the town's founder and namesake. His almanac has been published continuously for 225 years and is the ONLY almanac that is still published today by direct descendants of its founder.


The Almanack, as it soon became known, grew in popularity, quickly becoming an integral part of everyday Early American life. For many years hence, it was THE primary source for agricultural, meteorological and astronomical information vital to an agrarian community's survival. The highly accurate weather forecasts (made over 16 months in advance) were first derived using centuries-old methods but over the years, the method has been advanced, incorporating newer, more reliable techniques. And it still contains favorite folk remedies, useful hints and tips for everyday living, and other forms of traditional community wisdoms. Millions of copies have been sold and it has been said that the The Almanack has made Hagerstown widely-known throughout the U.S. and has given Maryland an 'epicenter' of farming and agricultural life.


Gruber's Hagerstown Town and Country Almanack Company has been recognized by Wikipedia as the 47th oldest company in the United States.
Click here
to see the full list.
The 2021 Hagerstown Town and Country Almanack Now Available!


The Gruber Almanack, LLC proudly announces the availability of its 2021 edition of The Hagerstown Town and Country Almanack! This popular regional favorite, famous for its 225 years of continuous publication and impressive track record predicting the coming year's weather, will be available for purchase at grocery, pharmacy, hardware, book and other popular retail stores beginning the week of September 7, 2020. Click here for a full list of retailers and their locations. But why wait? Click here, order yours today, and have it delivered right to your front door!

This year, The Almanack is proud to introduce its new weather prognosticator, Mr. Chad Merrill, replacing Mr. Bill O'Toole, who served in that position for 52 years! Merrill come to us with impressive credentials and has already helped The Almanack by contributing several weather features for this year's edition and by extending our reach through social media and a new Hagerstown Town and Country Almanack Channel on YouTube where he posts frequent weather updates to go along the forecasts made over 16 months ago! Click here for his full biography. Mr. O'Toole plans to serve The Almanack as Weather Prognosticator Emeritus, continuing to contribute his unique skills to its evolution for many years to come! Click here to review a recent article that appeared in the local Hagerstown newspaper, The Herald-Mail, announcing the 2021 edition's availability and also offering a peek at the winter weather to come.
Get Your The Almanack Knows! Sweatshirt or Tee Today!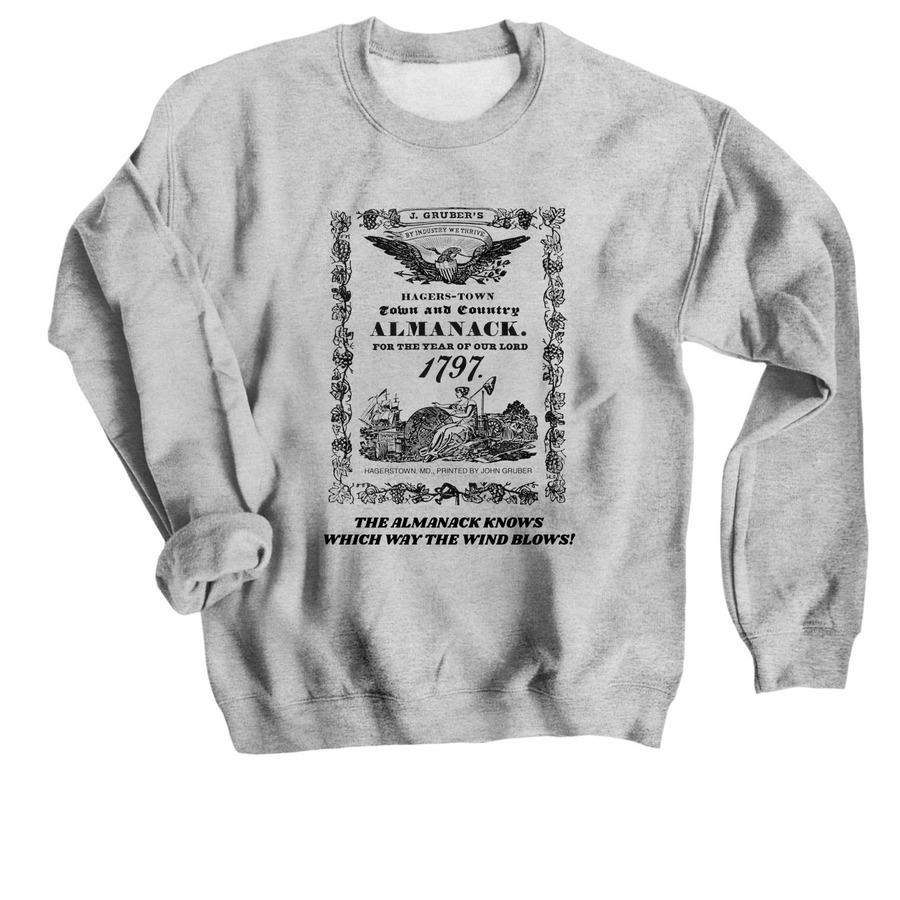 The Hagerstown Town and Country Almanack proudly offers its own sweatshirt and tee with
The Almanack's
familar 1797 cover and the pronouncement that "
THE ALMANACK KNOWS WHICH WAY THE WIND BLOWS!"
right below.
Click here
and check out the various styles, sizes, and colors available.
Hagerstown Town and Country Almanack Now on Youtube!
The Gruber Almanack, LLC proudly announces the launch of The Hagerstown Town and Country Almanack Channel on YouTube! Now you will able to easily access interviews, podcasts, webinars, and videos featuring weather updates to predictions made by The Almanack for the Mid-Atlantic Region over 16 months ago. These updates will be developed by Almanack weather prognosticator, Chad Merrill, along with support from local radio and TV meteorologists and personalities Check out The Almanack's latest endeavor to bring its weather content to readers who prefer this platform.


For the complete press release, click here. Local newspaper, The Herald-Mail of Hagerstown, Maryland, covered the launch with an article by David Rhodes. To read his article, click here.
Follow The Almanack Now on Instagram and Twitter!
The Hagerstown Town and Country Almanack has been on the Internet since 1995 and on Facebook @johngruberalmanack since 2010. Today, The Almanack announces that readers and fans can now follow their favorite almanac on Instagram @gruberalmanack and on Twitter @HAlmanack. Check us out for up-to-the-minute weather conditions across the Mid-Atlantic Region.







For more HAGERSTOWN ALMANACK NEWS, click here