Chad Merrill - The Almanack Weather Prognosticator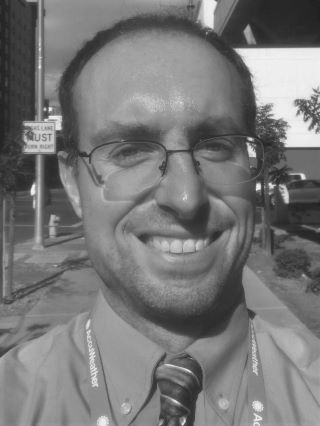 Chad Merrill joined J. Gruber's Hagerstown Town and Country Almanack in 2019 as its 8th weather prognosticator.
Chad has been a meteorologist for 17 years. He graduated with a Bachelor of Science degree in Meteorology from California University of Pennsylvania. From there, he worked in television at WJAC-TV in Johnstown, Pennsylvania, and WHAG-TV (Now WDVM) in Hagerstown, Maryland. Most recently, Chad has worked as a meteorologist for WTOP Radio in Washington, D.C., the Nowcast Weather Network, and Earth Networks (www.earthnetworks.com).
Merrill always had an interest in the weather growing up. He conducted numerous science fair projects relating to the atmosphere and in middle school was a weather watcher for WUSA-TV, Channel 9, in Washington, D.C.
Thus far in his career, he covered the flooding in June 2006 across Washington County, Maryland, the Mid-Atlantic severe weather outbreak of early June 2008, Hurricane Sandy in 2012, and the January 2016 East Coast blizzard.
When he is not analyzing weather data, Merrill enjoys working out at the gym, running, taking trips with his husband and their families and serving as a volunteer Disc Jockey for WRGG-93.7 FM, an oldies radio station in Greencastle, Pennsylvania.